The Department of Health (DOH) on Friday reported the first case of monkeypox in the Philippines, and officials said they are trying to obtain vaccines and medicines for the viral disease from the United States Agency for International Development (USAID).
The 31-year-old Filipino, who returned from abroad early July 19, had already recovered but was still in home isolation, according to Health Secretary Beverly Ho. She said 10 people identified as close contacts, including three from the patient's household, have been quarantined.
The person had previously traveled to countries with documented cases of monkeypox, she added, without elaborating.
Around 70 countries where monkeypox is not endemic have reported outbreaks and over 20,300 confirmed cases, prompting the World Health Organization (WHO) to declare a global health emergency on July 23. The WHO reported five deaths from January 1 to July 22.
The Philippine case was confirmed positive on Thursday and the close contacts had shown no symptoms, Ho said.
An infected person would have a chickenpox-like rash or sores on the skin and would also experience flu-like symptoms.
Ho said the DOH plans to obtain a compassionate special permit (CSP) for monkeypox vaccines and drugs.
She told reporters Thursday that the DOH is in "continuous communication" with its colleagues and USAID to secure monkeypox vaccines and medicines.
kind of treatment
These vaccines would only be for a "select population" most at risk of contracting the disease.
"It's not like COVID that we all have to be vaccinated," Ho said.
The main mode of treatment, she said, is still "supportive therapy." This involves relieving symptoms to prevent the patient's condition from getting worse. "The drugs will come in handy if the case is not easy," Ho said.
During a briefing in Malacanang on Friday, the health official said current regulations on emergency use of vaccines and medicines only cover COVID-19. Monkeypox vaccines would need to receive a CSP from the Food and Drug Administration before they could be used "as soon as possible," she said.
preventive measures
After the disease was discovered in countries where it was not endemic in early May, the DOH issued interim technical guidelines for the surveillance, screening, management, and infection control of monkeypox.
This was followed by the establishment of the Philippine Inter-Agency on Committee on Zoonosis (PhilCZ) chaired by the DOH with the Ministries of Environment and Agriculture as members.
By June, the Research Institute for Tropical Medicine (RITM), which had been designated as the main isolation facility, was able to "tweak" its test equipment for detecting the monkeypox virus.
But the RITM said it would only process those who "meet the definition of a suspect case of monkeypox" – someone who has rashes accompanied by fever, severe headache, lymphadenopathy (swollen lymph nodes), back pain, myalgia (muscle pain) intense Asthenia (lack of energy).
The DOH guidelines on managing monkeypox, which healthcare providers and local governments have been asked to follow, direct those responsible to: isolate, counsel, and report suspected cases of monkeypox; rule out other diseases and test for the virus; Treat symptoms and isolate for 21 days; advising households and institutions on minimum public health standards; and raise monkeypox awareness with verified information.
sexual contact
Health officials say disease transmission can occur through contact with skin lesions caused by the virus, as well as through bodily fluids, large respiratory droplets and contaminated bedding.
"Our (public health surveillance) systems are in place. But we all have to work together. We also need the public to be vigilant," Ho said.
"Based on what we know about monkeypox … there is a very clear need to be more careful about who we interact with, particularly sexual, intimate contact," she said.
Spokesperson Tixie Cruz Angeles said President Marcos' "principal concern" is to get information out there so people know about it.
Countries where monkeypox is not endemic but with confirmed cases are nine in Asia, 35 in Europe, seven in the Middle East and Africa, and 18 in the Americas.
Monkeypox is a zoonotic disease that can be transmitted from animals. Animals associated with it include squirrels, African dormouse, Gambian opossums and sooty mangabey.
It is endemic to the African countries of Cameroon, Central African Republic, Democratic Republic of the Congo, Gabon, Ghana, Ivory Coast, Liberia, Nigeria and Sierra Leone.
Not difficult to handle
dr Rontgene Solante, head of the infectious diseases unit at San Lazaro Hospital, told the Inquirer that the disease "isn't too difficult to manage" because it's "not as complicated as COVID-19."
"Our experience with COVID will help us with room allocation for isolation and clinical management diagnosis. But there are important points we need to know about this monkeypox and why it's not difficult to manage," Solante said.
"Most patients have only mild to moderate symptoms, mostly skin lesions," he said.
Caring for patients required less use of devices used to treat COVID-19, such as B. Mechanical ventilators. Monkeypox patients can simply isolate themselves at home and may not need hospital treatment, he added.
However, Solante said more efforts should be made to build healthcare capacity for detection and treatment, e.g. B. Expanding testing capacity and incorporating specialty centers such as sexually transmitted disease (STD), human immunodeficiency virus (HIV) and dermatology clinics to manage patient care and treatment.
"[In the] In the current outbreak, 95 percent are men who have sex with men, and the most common form of transmission is STD-like skin lesions," Solante said.
He also stressed the need to raise awareness to prevent stigma and discrimination among gay men, who have been hardest hit by the ongoing global outbreak.
In a statement Friday, the DOH said an investigation into recent cases had pointed to "possible transmission through sexual contact."
"Minimize close sexual contact with suspected cases, especially those with rashes or open sores. keep hands clean. Wear a face mask, cover coughs with your elbow and choose areas with good air circulation," it said. WITH A REPORT BY REUTERS
gsg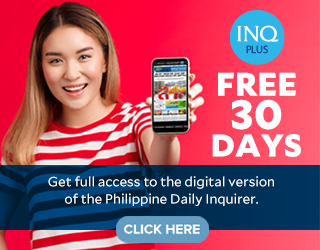 continue reading
Subscribe to INQUIRER PLUS to get access to The Philippine Daily Inquirer and 70+ titles, share up to 5 gadgets, hear the news, download as early as 4am and share articles on social media. Call 896-6000.